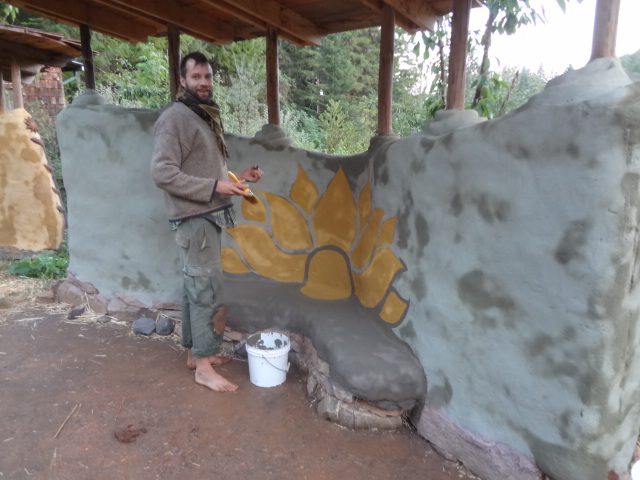 This week we learned about clay plasters, lime plasters, and clay-based paint. Clay plasters can be used on indoor or outdoor walls. Like earthen walls, clay plasters "breathe" – absorbing and releasing moisture. So, they are good for maintaining a pleasant and healthy indoor environment, but they aren't best suited for use in high moisture areas, such as kitchens and the lower parts of outer walls. Lime plasters would be a better choice in such places.
Erica Ann Bush from Day One Design joined us for another week of teaching. The three types of clay plastering we did were: base plastering, finish plastering, and painting with aliz (a mix of clay, wheat paste, silica sand and pigment). We also did a lime-based plaster, a lime wash, and experimented with Tadelakt, a Moroccan tradition of rubbing olive oil soap into lime plaster with a stone to create a highly polished, water resistant finish.
Clay plasters
To plaster the walls, first a base plaster is applied. When that is completely dry, a finish plaster is applied.
To make the base plaster, we used a ratio of 1 part clay to 3 parts sand to 0.5 parts chopped straw. We mixed the clay with water in the mortar mixer, then added sand, and then the straw.
We taped the edges of the wall and spritzed the wall with water to moisten and activate it to adhere with the plaster. We began by first applying a layer of plaster by hand and smearing that into the straw wall, and then continued building and smoothing the plaster layer with wooden floats.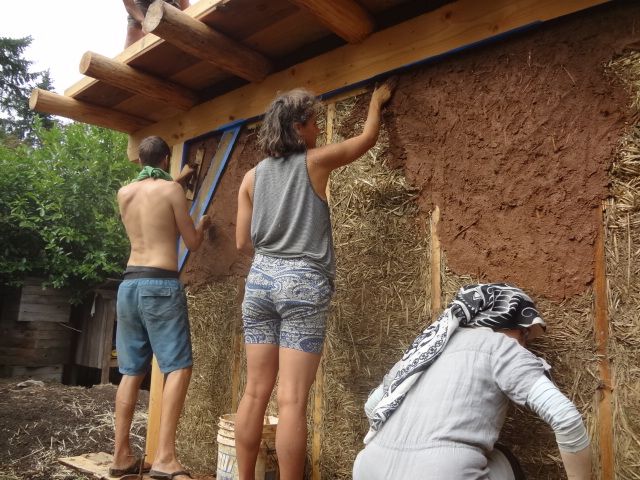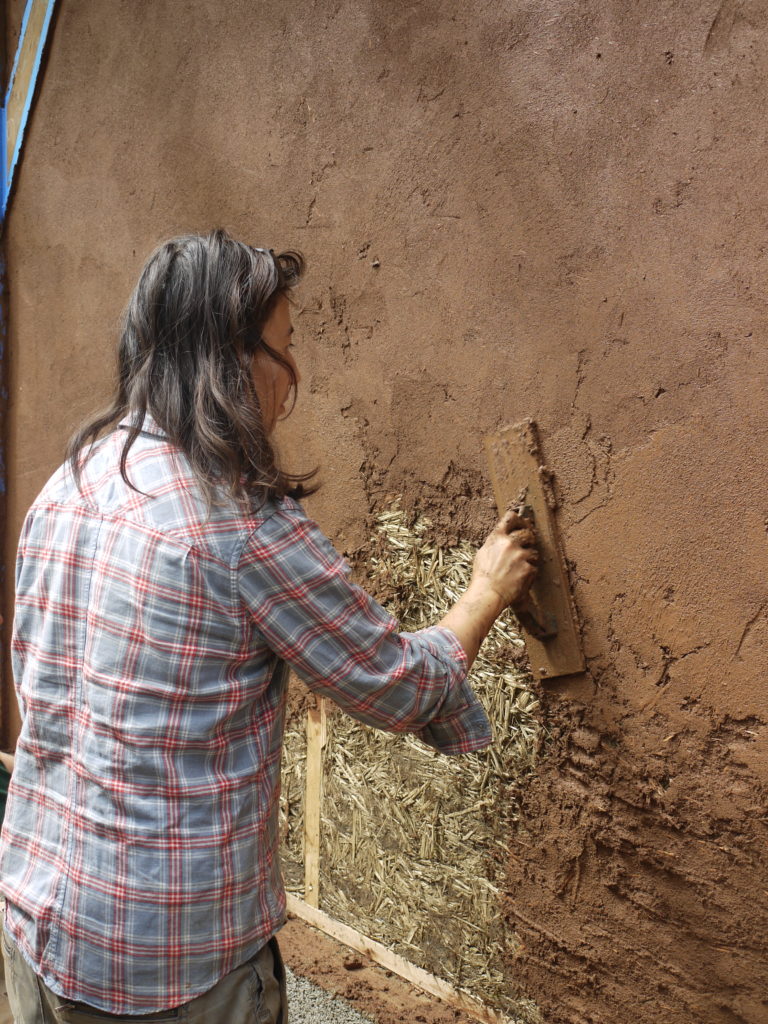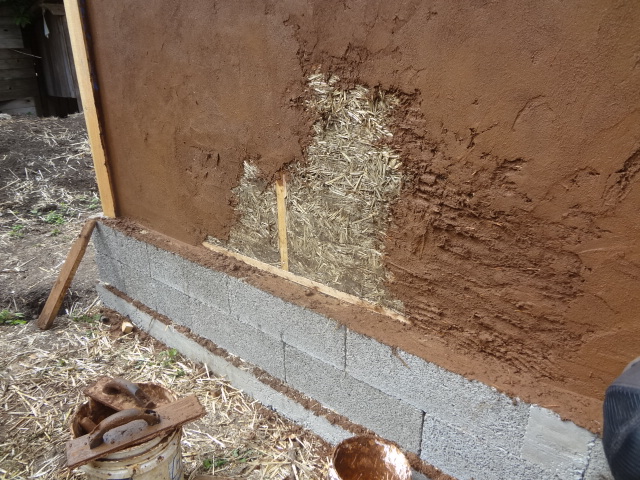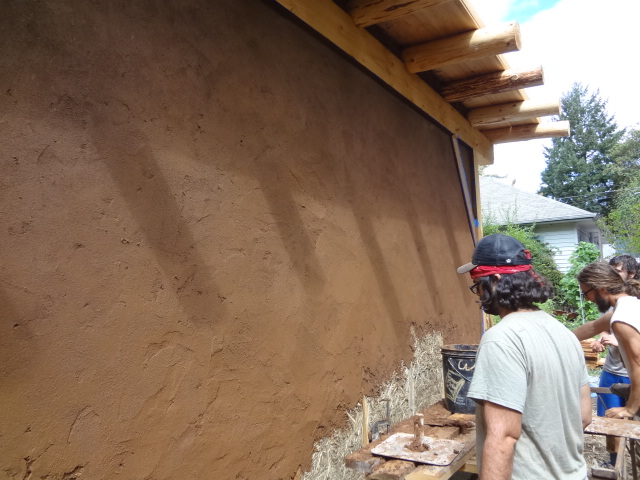 We applied the same base plaster to the chip-slip wall.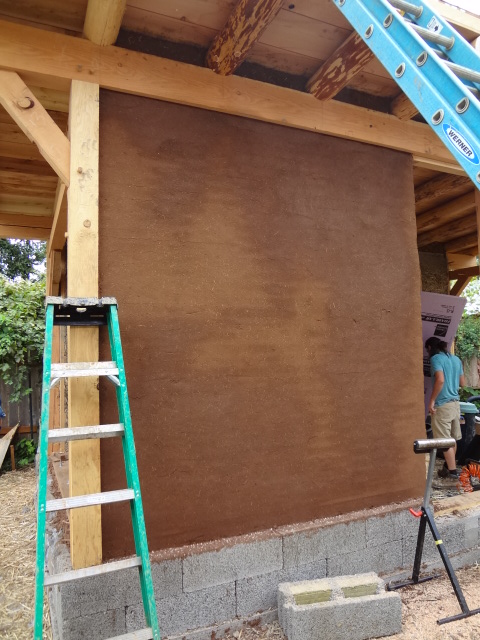 As we didn't have time to let that dry long enough in order to apply the finish plaster, we got some experience finish plastering on an earthen wall of a neighbor's building. Our finish plaster was a mix of 1 part clay to 3 parts mason sand to 0.5 parts "fines" (120 or 200 mesh sand, or you could use silica from a ceramics supply store). If you like the look of it, you could also add finely sifted cut straw to the mix. We used Japanese stainless steel trowels to create a smooth finish.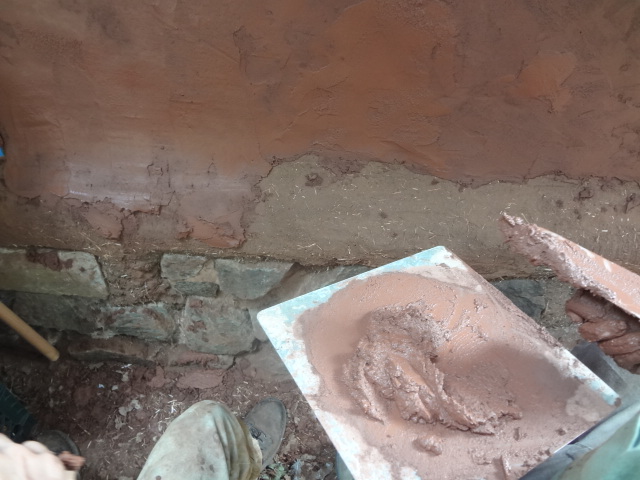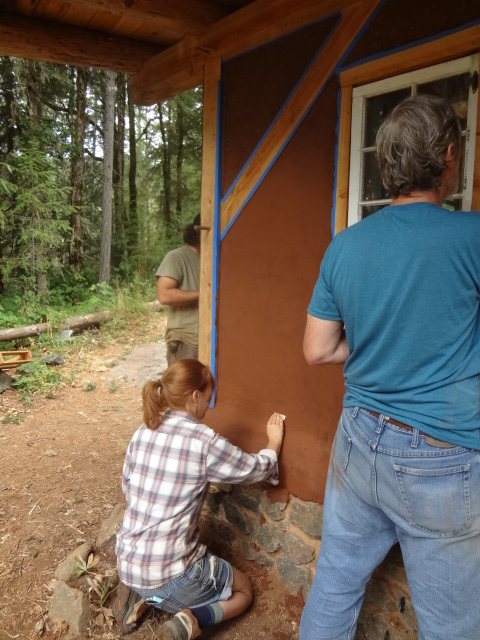 For maintenance of the finish on your exterior walls, you'll likely have to reapply a finish plaster over time. Some people choose to seal the the plaster, for example with a technique of multiple coats of a linseed/ mineral spirit mixture. Personally, I think it sounds nicer and easier to care for the walls by reapplying and or repairing the plaster as needed.
Clay Paint (Aliz)
If you want a color for your wall that's different than your finish plaster, you could apply a thin clay paint (also known as aliz). The aliz is made from clay, wheat paste and silica sand (we used 60 mesh) in a ratio of 1:1:1. You can add pigments such as iron oxide, or different colors purchased from a company like American Clay.
The wheat paste for the aliz is made in a ratio of 1:2:4 of flour to cold water to boiling water. To make it, mix the flour with cold water, then add that to the boiling water and whisk it. Don't boil it.
You could apply an aliz directly over a base plaster if it's pretty smoothly finished. Or you could put it over your existing finish plaster if you want a change of color.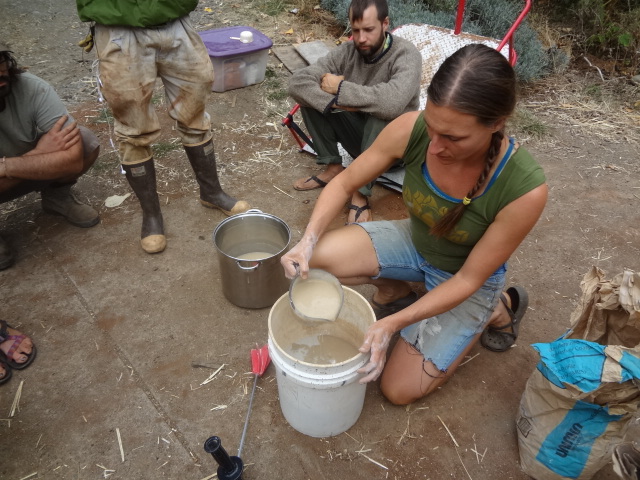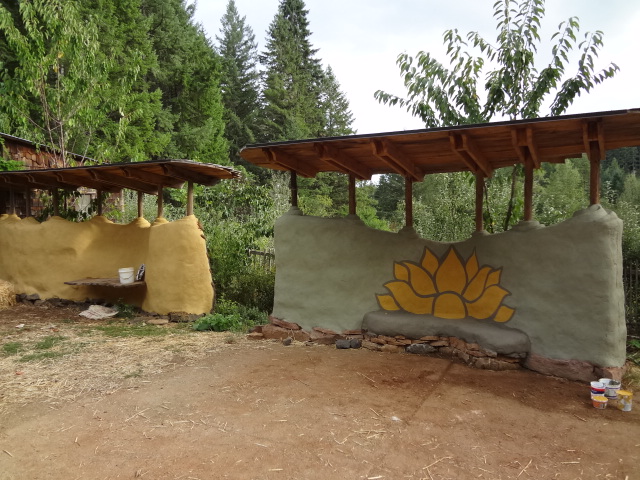 Earth plasters can be applied over conventional walls. You'd need to first prime the wall (using a primer mixed with 60 mesh fines would be ok). Aliz could also be applied over a conventional wall that is primed. Some folks have raised a question about whether the wheat paste in an aliz may be food for insects. Need to look into that further!
Lime Plasters
We applied a lime plaster to a wall on campus, in a room designated as a future kitchen area. The wall had received a prior layer of lime plaster several years ago but it was not in good shape, so we decided to put on another coat. We scarred the walls with a metal tool to create better mechanical connection between layers and then moistened the wall with water. The lime plaster was a mix of lime putty (50lb bag of pressure-hydrated type S lime mixed with 10 gallons of water) and sand and elk hair, in a ratio of 1:3:0.5. (the fiber portion can be up to 0.5 of a part. We used a bit less than that of the elk hair.) You could use other fiber; we used elk hair because we had a bunch of it on hand.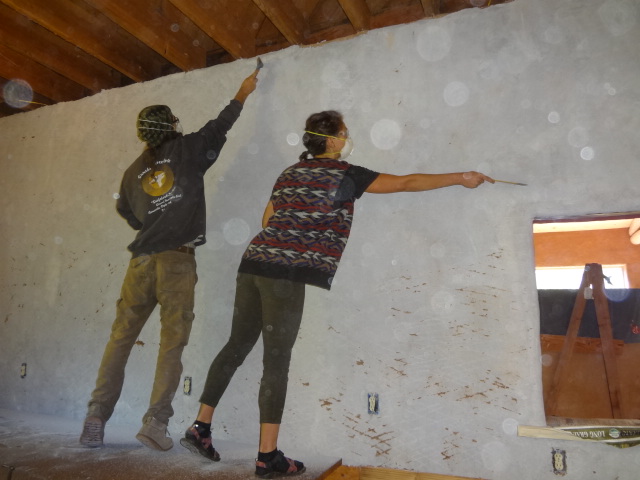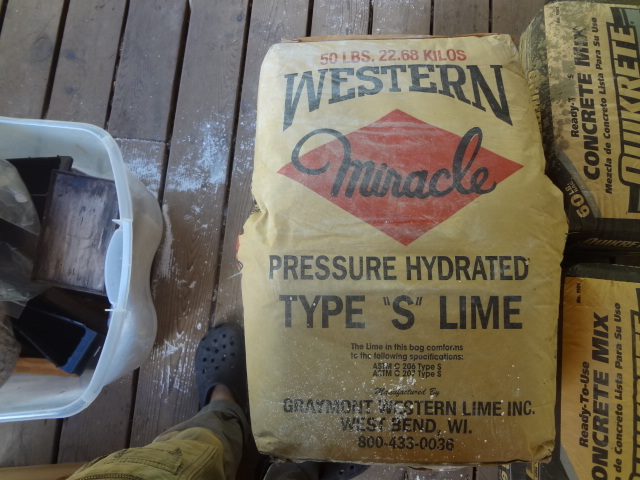 To add some color to your lime wall, you can create and apply a lime wash, by diluting the lime putty with water, 1:4. We made a very light color of blue and green, which someone aptly named "sky foam".
Tadelakt
Tadelakt is a Moroccan tradition of highly polishing a lime surface into a glossy water resistant state by rubbing olive oil into it with a stone.