Today we are…
Building the loft and finishing up!
To create some storage room in the cabin, we built a loft. The loft frame was constructed as a 4-sided box with 6 floor joists, using 2×6's. The long sides of the loft were cut to 109 1/4″ (the interior width of the cabin from stud to stud). The width of the loft was 51 1/2″ (the short sides were cut to 48 1/2″ to account for being sandwiched between the 2 long ends of the rim joist).
The loft frame was then installed above the height of the window opening.
An additional 2×6 was fastened to the loft and to the wall studs for support.
The floor of the loft was made of knotty pine 1×6's with 3/8″ tongue (WP4 Paneling), laid perpendicularly across the floor joists.
While the loft team completed their project inside the cabin, some of us worked on making the gable ends — installing siding over the front and rear gables. We constructed each gable end out of 3 pieces cut from 4′ siding panels (the same siding as the exterior walls). The gable ends sit on top of the Z-flashing.
And.. that was it!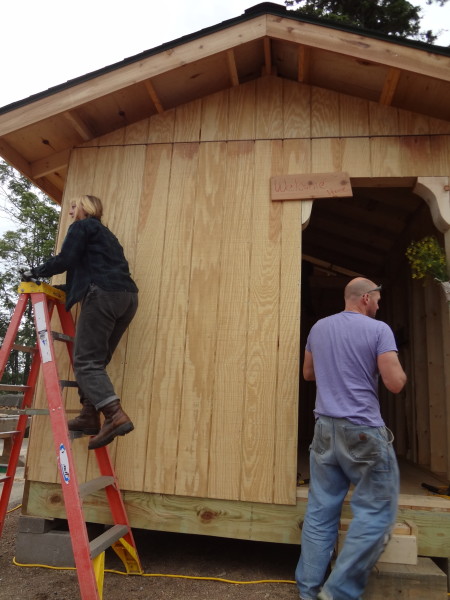 Next steps:
Installing windows and door
Soffit
Corner boards
Outside trim for window and door
Wiring
Plumbing
Insulation, then inside finishing